We have long-standing relationships with our fishers – some we've worked with since we started out in 2003. Our fishers operate inshore vessels (working within 12 nautical miles of the coast), that fish as far north as Timaru, and as far south as Stewart Island.
Many of the boats we work with are run by owner-operator skippers, who are second, third or even fourth-generation fishers. Depending on size, vessels will have 1-4 crew (including the skipper) on board at any one time.
Our fishers harvest wild-caught fish from the lower East coast of the South Island. They ice and chill their catch on board as quickly as possible, and steam back to port so we can collect their landing in record time, and deliver you the freshest fish possible.
Sharn on the Leander
| | |
| --- | --- |
| Home Port: | Bluff, Southland |
| The Catch: | Monk, Sole, Brill, Flounder & Elephant |
| Skipper: | Sharn Coote |
Sharn got his first taste of fishing on the back deck of a Bluff Oyster boat as a kid but it was a life-changing motorbike accident in Australia that brought him back home to Bluff and to a career as a fisher. With a grandad who was an oysterman and a deckie, and a fisherman uncle who he worked for for 10 years, it's no surprise that Sharn loves to be at sea. As he says, 'it's fresh air, beautiful scenery, and a sky full of stars every night. And I'm my own boss.'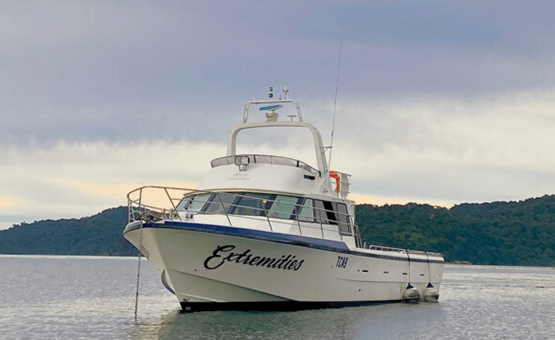 Ant on the Donna Maria
| | |
| --- | --- |
| Home Port: | Carey's Bay, Dunedin |
| The Catch: | Sole, Flounder, Brill and Gurnard |
| Skipper: | Ant Smith |
Ant was born and bred in Carey's Bay and grew up around the local fishers. After a trade apprenticeship he went to crew for 6 months on a local boat and 30+ years later he's still fishing. Ant is currently President of his local Port Chalmers Fisherman's Co-Operative Society (est. 1909). 'We're fishing the same grounds we have for more than 100 years and the fishery is in the best health I've seen it. Modern technology has helped us to make really positive changes. The job satisfaction is immense, and the catch is the reward.'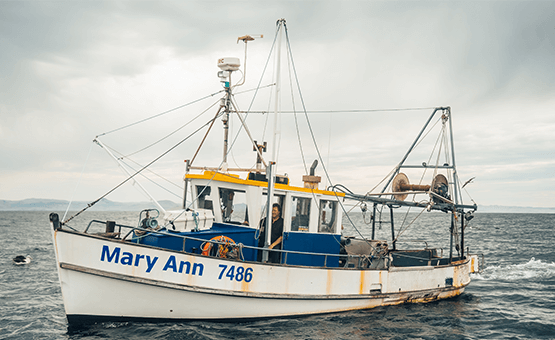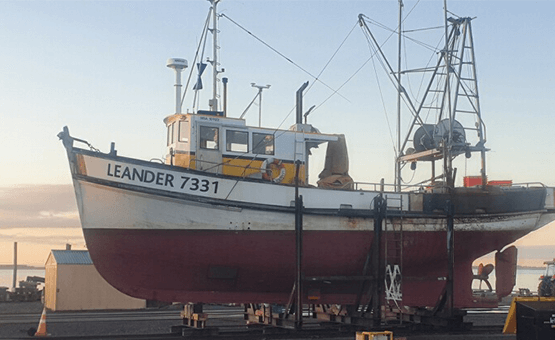 Brad on Extremities
| | |
| --- | --- |
| Home Port: | Bluff, Southland |
| The Catch: | Blue Cod and Octopus |
| Skipper: | Brad Johnson |
Brad is a 6th generation fisher on his Rakiura dad's side. Growing up on the water he never gave another career much thought. After 25+ years, 'there's never a time where I think I'd rather be anywhere else, even on a rough day, and there are plenty of those'. He was taught by his dad and grandfather, and moved through the ranks as a deckie, a skipper and then a boat owner. His latest vessel, Extremities, was picked up in Hobart and steamed home to Bluff by Brad and a few mates in 72 hours.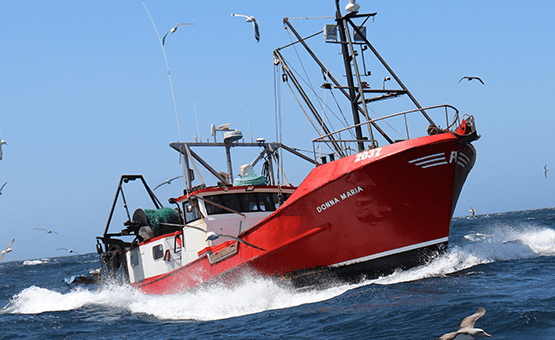 Neil on the Mary Anne
| | |
| --- | --- |
| Home Port: | Ōtākou, Dunedin |
| The Catch: | Gurnard, Crayfish, Elephant & Sole |
| Skipper: | Neil McDonald |
Neil's Dad was a boat builder and he reckons he hung around the wharf long enough after he finished school that he got a job. Through his wife he's privileged to fish Ngāi Tahu quota, and even after 40 years at sea, "I love it. Hate the politics. But I wouldn't want to do anything else. It's a lifestyle, not a job, and people need fresh fish. There's more young people around keen to continue the legacy of fishing now than I've seen in my time, and that's a really good thing."
Haydin on the Truby King
| | |
| --- | --- |
| Home Port: | Carey's Bay, Dunedin |
| The Catch: | Blue Cod, Ling, Red Cod & Paddle Crabs |
| Skipper: | Haydin Anderson |
Haydin grew up helping out on his uncle Allan's fishing boat. When he finished school he did his time as a crew before he completed his skipper's ticket, and he's been running the Truby King since 2018. Haydin acknowledges fishing is hard work, and that it's a grind to make the freezing, wet winter days at sea happen. As he says, "it's always enjoyable though, and that there's nothing better than an early start, watching a sunrise at sea and seeing your catch come aboard. Every day is different and none of them are dull".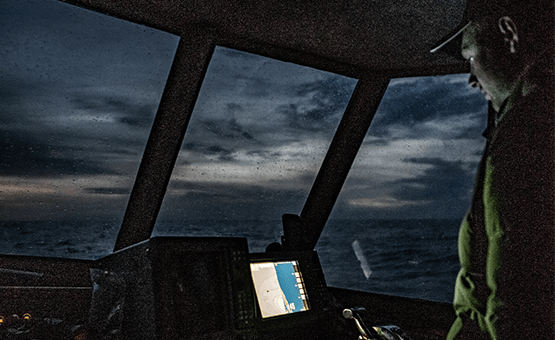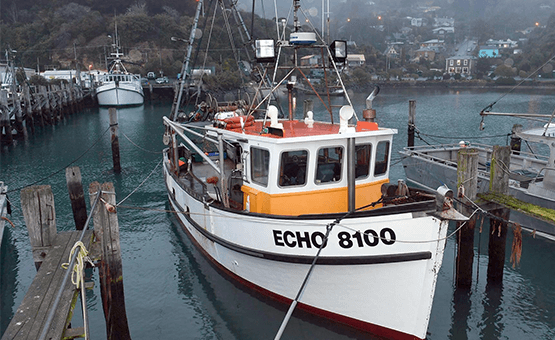 Gavin on the Echo
| | |
| --- | --- |
| Home Port: | Carey's Bay, Dunedin |
| The Catch: | Tarakihi, Moki, Flounder, Sole, Gurnard, Monkfish & Elephant |
| Skipper: | Gavin Heineman |
Gavin's Dad was a fisherman, and he was at sea with him before he started school. Gavin crewed and then skippered for his Dad for 15 years, until he took over fully in 2017. He continues to fish the same grounds his dad did, alongside two crew. Taking care of our environment is high on his priority list. He won a 2017 Seabird Smart Award for Innovation for modifications he made to his vessel to protect seabirds. "I'm passionate about doing the job right. I'm not here to pillage the environment for today, I'm here for the future."
Glen on the Lady Jane
| | |
| --- | --- |
| Home Port: | Taieri Mouth, Otago |
| The Catch: | Sole, Flounder, Red Cod & Monkfish |
| Skipper: | Glen Patterson |
Glen grew up with a Dad who was a Cray fisherman for 28 years. He helped him build pots as a kid and fishing has always been his passion. He's been on the water for 20 years, the majority of that time fishing the Otago / Southland coast. He bought the Lady Jane in 2012, and works with one crew, from 4 or 5am until 11pm when they're out harvesting. He loves his job, but has really enjoyed watching young crew start with him, go through their skipper's tickets and on to run their own boats.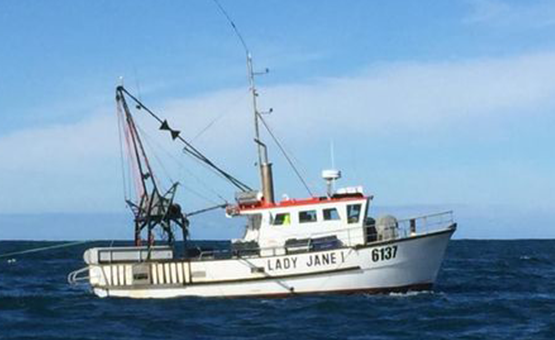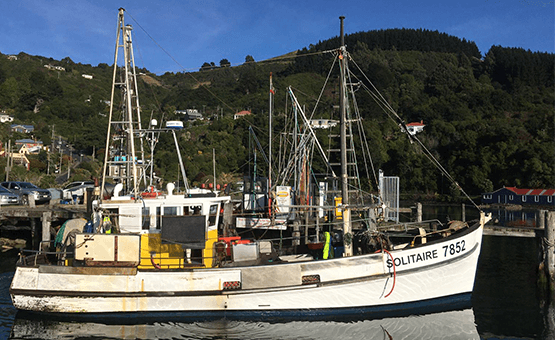 Glenn on the Solitaire
| | |
| --- | --- |
| Home Port: | Carey's Bay, Dunedin |
| The Catch: | Sole, Moki, Flounder, Gurnard, Monkfish, Tarakihi & Elephant |
| Skipper: | Glenn Robinson |
"I had a fascination with catching fish and I thought when I finished school at 17 and the opportunity arose, that I might enjoy fishing." Glen started as a crew out of Moeraki, and then had a 10 year break to live overseas and travel extensively. He reckons he knew when he came home he would go fishing again. He works with one crew, sometimes two, on the Solitaire. While being away from home and family for a few days at a time can be tough, "I enjoy the freedom of it, the challenge of catching, and running my own schedule."
Aaron on the Nimbus
| | |
| --- | --- |
| Home Port: | Bluff, Southland |
| The Catch: | Blue Cod & Octopus |
| Skipper: | Aaron Metzger |
Born and bred in Bluff, Aaron watched the local fishing boats go in and out as a kid, and always liked the ocean. He cut his teeth doing a few years on deep sea vessels but has worked on inshore boats out of Bluff for the last 18, and skippered the Nimbus for three. "I still enjoy that rush of adrenalin you get from being out on the ocean, and the adventure of fishing. You've got to be vigilant and try different things for a successful catch. A land job certainly wouldn't interest me." He still loves a feed of fish at least three times a week, and does a mean raw fish dish.